EV Charging FAQ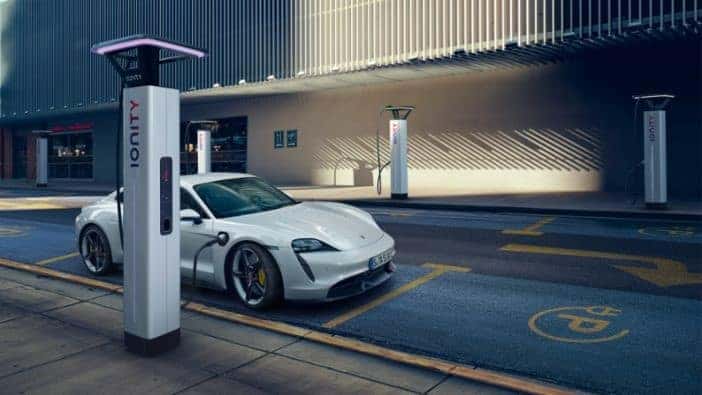 There's no denying, electric vehicles are here to stay. We continue to see more and more on the road every day. Of course, when you drive an electric vehicle, it's so important to understand electric car charging. We're addressing our frequently asked questions at Porsche Omaha to give you the inside scoop. 
Where Do I Charge? 
Most electric vehicles, like the Porsche Taycan, come with a portable charger. That way, you can charge your vehicle anywhere there's a compatible outlet.
 You can also charge your vehicle at a charging station. There are thousands of public charging stations in the United States, or you can even have a charging station installed at your home. 
How Do I Find the Nearest Public Charging Station? 
Porsche electric vehicles are equipped with an interactive charging map which gives you an overview of all your nearest charging stations and helps you integrate stops into your trips too. 
You can also download a smartphone app which can show you where to charge and even if the stations are occupied or not. 
How Long Does It Take to Charge? 
Your charging time depends on the level of charging you utilize, as well as your battery level and how far you have left to travel.
Level 1 charger – the portable 140-volt charger is typically best for

Porsche hybrid vehicles

, but can provide up to five miles of range per hour for your EV. 

Level 2 charger – can be installed at home (by a licensed professional) or found at many public charging stations. With an at-home charger, you can conveniently charge your EV completely while you sleep. 

Level 3 charger – the direct-current fast-charging chargers are only found at public charging stations. They help you charge your vehicle completely in less than 30 minutes. 
How Do I Know if I Need to Charge? 
You can easily track your battery status through the My Porsche app with Porsche Connect services. You can even start or end the charging process through the app so you can conveniently control your charge anytime. 
You can also set charging profiles for the places you visit most to make sure your EV always has the minimum charge you prefer before you leave. 
Still have questions? Reach out to our Omaha Porsche dealership – we're happy to help!