Luxury Cars for 2019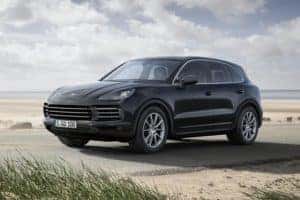 In the market for a new luxury vehicle, but don't know where to start? Our expert dealers at Porsche of Omaha understand your high expectations and are ready to surpass them with our stunning new inventory. Come see for yourself at 6625 L Street, and take a test drive, while you're at it!
Newest Luxury Vehicles
Our dealership is fully stocked with all of the latest Porsche models, from speedsters like the 2019 Porsche Panamera, to unique crossovers like the 2019 Porsche Macan. From the outside, the Panamera looks like a true speed demon, given its zero-to-60 time of just 3.6 seconds, but its lavish interior offers spacious seats and lots of luggage room for a smooth, relaxing ride. As far as crossovers go, the Porsche Macan is one of the best of its class if you're looking for dynamically smooth handling combined with a tight, compact exterior.
If sturdier SUVs are more your style, then you may want to check out the 2019 Porschce Cayenne. Able to traverse any terrain with ease, this premier mid-size SUV not only offers durability amid rough terrain, but its smooth maneuvering and comfortable seating make it downright fun to drive.
Luxury Features in our Models
Not only are our luxury Porsche models sturdy and easy to drive, but they're chock-full of interactive features that raise the stakes for carmakers everywhere. The 2019 Porsche Macan comes with a 10.9 inch intuitive touchscreen display that gives you fast access to the main functions of the vehicle and real-time traffic updates, among other things. If massaging, heated seats with memory settings aren't enough to interest you in the 2019 Porsche Panamera, try checking out its panoramic sunroof and built-in night-vision capabilities.
But what do luxury vehicles matter if they don't have feature the latest in technology? In the 2019 Porsche Cayenne, you can expect to find a 12.3 inch touchscreen compatible with Apple CarPlay®, plus a 4G LTE mobile Wi-Fi hotspot, so passengers in your SUV can browse and play online wherever and whenever.
No matter what kind of luxury vehicle you're looking for, Porsche of Omaha has everything you need and more. Our vehicles will make you the envy of drivers everywhere, and after just one visit, we guarantee you'll be driving home in style.