Porsche 918 Spyder with Weissach Package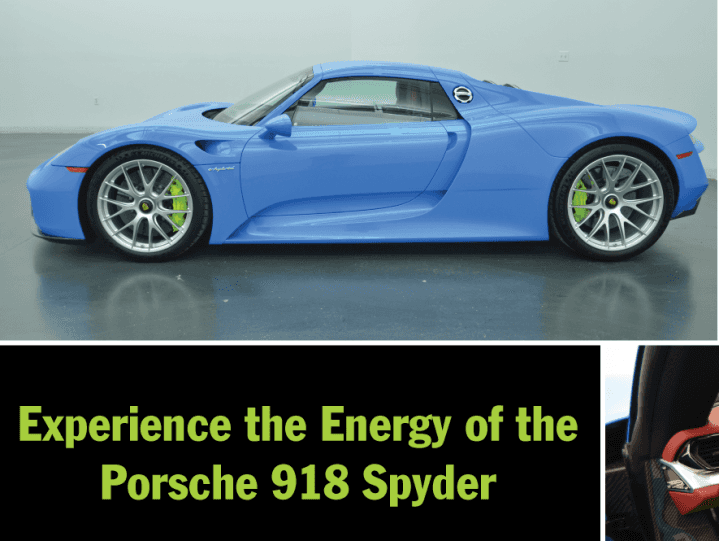 This week's vehicle is a true collector piece: a 2015 Porsche 918 Spyder in Riviera Blue.  This is a pristine condition 918 Spyder with only 24 miles.  It is unit number 73/918.
For those who do not know what a Porsche 918 Spyder is, it is Porsche's answer to the McLaren P1 and LaFerrari.  The 918 finished Nurburgring in 6.57 minutes.  Porsche 918 Spyder has a V8 naturally aspirated 4.6L engine producing 608hp along with two electric motors 127hp(front) and 154hp(mid) to produce combined 887hp and 944lf-ft of torque.  918 features a dual clutch automatic transmission with manual shifting mode.
"Wow, just wow. It's incredible. OK, so if we're brutally honest the P1 is a hairier, more exciting car to drive – a more hyper hypercar. However, what the 918 Spyder does brilliantly is match the environment it's in. Cities: cool, quiet and electric; motorways: smooth, manageable, comfy; country roads: secure, immediate, massively confidence-inspiring; racetracks: razor sharp, suffers no fools. It's an intoxicating package, and so rewarding and absorbing to spend time with. 
And then there's the engine. The best way to sample it is as follows: engage a high gear at low speed and shove throttle as far as you dare. What you get is this wonderful instant thrust from the electric motors (much bigger and more powerful than those fitted in either the McLaren or Ferrari), and then, as the revs rise, there's this delicious handover to the V8, an engine which is entirely savage at the top end. The whole experience unquestionably proves that hybrid is the future for supercars."
Top Gear
Porsche of Omaha is happy to help out with your shipping needs. As an auto dealer we set up shipping for hundreds of customers each year. So, let us help you arrange your shipping. Or better yet, if you are flying in give us your details and we'll pick you up at the airport to pick up your new vehicle. Call or email Alexey at Porsche Sales at alexey.afanasiev@woodhouse.com or call 402.592.1000 for further details.
Options:
Exterior Paint to Sample, Non Metallic – Riviera Blue
Leather interior in Garnet Red with Silver Piping
918 Spyder Magnesium Wheels (20/21in)
Front Axle Lift System
Home Link System
Seat Pad for Lightweight Bucket Seats
Carbon Floor Mats with Silver Piping
Vehicle Cable 25ft
Porsche Universal Charger (AC)
Seat Belts with Accent Striping in Silver